Description
Edit
Mu is a black British Short-hair with a white chest, paws, tail tip, and chin. Mu also has blue eyes.
Information
Edit
Owner: Alister 'Tatter' Morgan
Sex: Male
Status: Deceased (Ran over by a car)
In the Books
Edit
Mu is mentioned by Tatter in the final book of the series, he was also shown at the end of the book guiding Tatter's soul to Heaven. In Tatter and Shatter's book he is shown to be rescued as a kitten as he was roped to a fence and left to die. Tatter gave the little kitten the name Mu.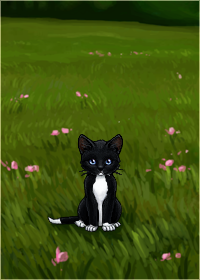 Mu was originally abused by his former owner.
Mu prefers Alister over Terence.
Mu's name in Japanese and Korean translates into without, or not having.
Mu is one of the three characters whose fate and actions decided the events of TSC. The other two are Kaeso and Enoka.
Cat Chronicles
Edit
Mu has his own Mini-Volume about his life before his death. He is shown celebrating Christmas with his friend and owner Alister.